Automation setup? Not having to send your email and SMS campaigns manually is great, but its best practice to periodically monitor your email and SMS campaigns as well. Keeping track of your sends, open rates, and clicks is key to making sure your copy performs well and will inform whether or not you need to change your criminal defense marketing strategy.
This guide will be split into 2 sections.
How to monitor your Email campaign performance in MailChimp*.

*Note that this guide is for users who have a classic automation setup, typically one email and a follow-up. Users who have a drip campaign sequence setup will need to view their campaign performance in the Automatoins tab under Customer Journeys.

How to monitor your SMS campaign performance in your Client Connect Dashboard.
---
How to monitor your email campaign performance.
Login to your MailChimp Account & Navigate to the Campaigns Tab**.**

Click on the View Report button next to your email automation.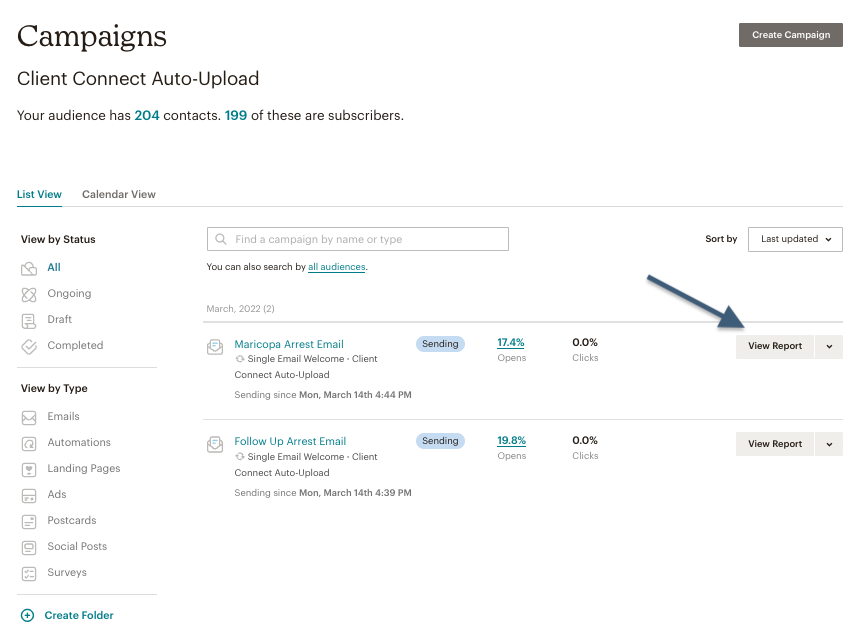 View your campaign stats.
Here are a few definitions you may find helpful:
Opened: How many people opened your email.*
*Note that Apple has prevented open-rate tracking on all iPhone devices updated to IOS 15. This may impact MailChimp's reported open-rate negatively even though actual opens will be higher.
Total Opens: The total number of times your email was opened by all recipients (accounting for those who opened the same email more than once)
Emails Sent: The total number of emails you've sent for this campaign.
Clicked: The number of times a recipient has clicked on a website link in your email. Note that MailChimp is unable to track phone number clicks, so this click through rate will only account for website link clicks. Users who's call to action is a phone call may experience a reported click-through rate lower than actual.
Unsubscribed: The quantity of recipients who clicked on the unsubscribe link below your email.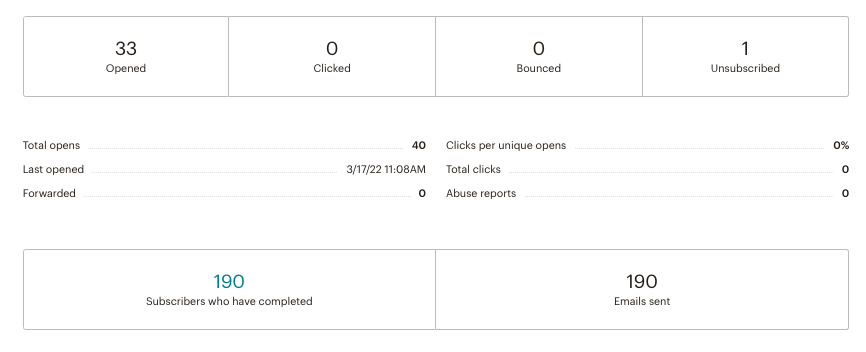 Congratulations! You can come back here anytime to view how your email is performing.
---
How to monitor your SMS campaign performance.
Login to your Client Connect portal & Navigate to the SMS Automation Tab**.**

Scroll down to see how many text messages you've sent and how they looked when they went out.

You can return to this page anytime to view the performance of your text message and make edits.

---
Got questions? Schedule a free tech consultation with a member of our team or send us an email at support@clientconnect.ai.
Feel free to check out our other articles:
Criminal Defense Marketing: Snail Mail vs. Digital Mail
Criminal Defense Marketing: Direct Solicitation of Prospective Clients