Client Connect is an invaluable resource for directly contacting criminal defense leads via email and text, but our criminal defense marketing doesn't have to stop there.
By combining your Client Connect data stream with the ad targeting abilities of Facebook, you can perform data driven criminal defense marketing via Facebook ads to directly serve facebook ads to recently arrested individuals. Here's how it works:
Download the latest arrestees from your Client Connect Dashboard.

The Download button is on the top-right of your user dashboard.

a. Select the Enriched Data option when downloading to download only leads for which we've obtained a good email and phone number.

Use the Audiences function in Facebook Ads platform to create a custom audience for these arrestees

Watch as Facebook takes our arrest data and matches it with real Facebook users. It will then add these people to your audience so you can advertise directly to them

Create an ad campaign using this audience or add the audience to an existing campaign.
---
For more information on executing step number 2, here is step-by-step guide with screenshots:
2.1 Navigate to Audiences in your Facebook Ads Manager.
2.2 Select the Create Audience tab, then choose the option for Custom Audience.

2.3 Use a Customer List for your Custom Audience, then click Next.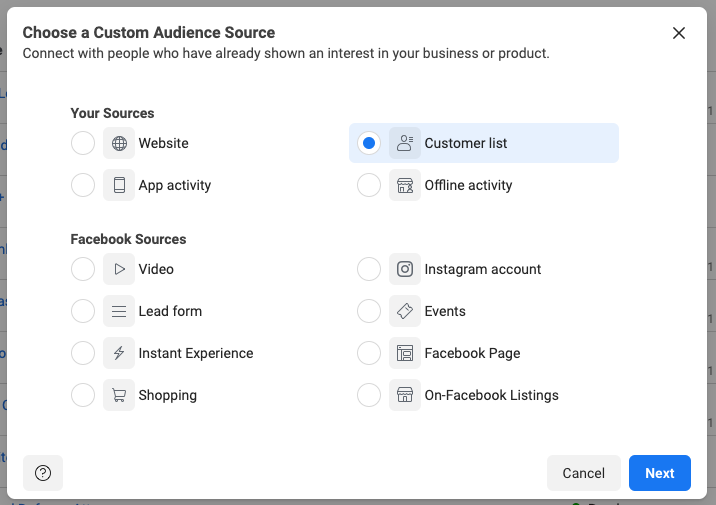 2.4 Click Next on the bottom right.
2.5 Facebook gives you the option to create 'estimated values' based on your customer types. For example, if a DUI client on average brings in $4000 but an Assault client brings in $6000, you can give these values to Facebook for them to target your higher revenue clients.
Before uploading, you can add a column to your sheet and fill it in with customer values, or simply skip this step by selecting No.
2.6 Upload the .csv file you downloaded from your Client Connect dashboard and give your audience a unique name (it can include the date you pulled the file to keep track of versions). When you're done, hit Next.
2.7 Review your uploaded list. Make sure that the First name, Last Name, Age, Email, and Phone Number columns are mapped, then click Upload and Create.
2.8 Your audience has now been successfully created. Facebook will start matching your uploaded data to its users and once that is done you can start advertising to your Client Connect Audience.
You can click Create an Ad to start advertising for criminal defense to your new audience.
Congratulations! You can always add fresh criminal defense marketing leads to your Audience by:
Selecting the audience
Clicking Actions
Clicking Edit
Selecting the Add Customers option
Following steps 2.6 – 2.8
Got questions? Schedule a free tech consultation with a member of our team or send us an email at support@clientconnect.ai.
Feel free to check out our other articles:
Criminal Defense Marketing: Snail Mail vs. Digital Mail
Criminal Defense Marketing: Direct Solicitation of Prospective Clients